The title says it all...
A group of students posted some posters to remember the terrorist attacks on the the 9/11. A purple haired woman, who is a professor of Gender Studies, came around tearing the posters down.
http://www.campusreform.org/?ID=8113
Here a video of the incident where Margot Lovett is seeing tearing down the posters and then explaining to the students that they can only display their memorial in a "free speech zone" after they get permission to do so: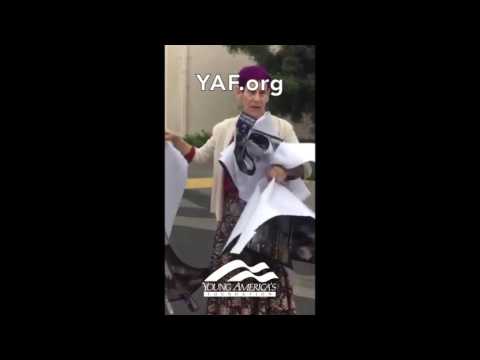 Margot Lovett is a professor of gender studies and the director of the College History Department.
Saddleback college have taken down her profile from their website, giving us a 404 error page:
https://www.saddleback.edu/mlovett
But internet archives have a copy of the page:
https://web.archive.org/web/20160405...ck.edu/mlovett
here the deleted content:
First Name:
Margot
Last Name:
Lovett
Phone:
(949)582-4979
Title:
History Instructor
Department:
Social Sciences
Division:
Division of Social & Behavioral Sciences
Organization:
Saddleback College
Education:
Ph.D., African History, Columbia University, 1996
M.I.A., International Affairs, Columbia University, 1984
B.A., History and Political Science, Montclair State University, 1979

Margot Lovett joined the faculty of Saddleback College in 1997. A social historian by training, her academic area of specialization is African History. Her research has focused on 20th century gender and labor history in an area of present-day western Tanzania. She is particularly interested in understanding how individuals in a colonial situation negotiate relations of power that cut across lines of gender, class, and generation.

Professor Lovett currently is the Chair of the History Department. She also teaches classes in the Honors Program and in the Women's and Gender Studies department.

Publications:
"'She Thinks She's Like a Man': Marriage and (de)Constructing Gender Identity in Colonial Buha, Western Tanzania, 1943-1960," in Dorothy Hodgson and Sheryl McCurdy, eds., wicked Women and the Reconfiguration of Gender in Africa (Westport, CT: Heinemann, 2001)

"From Sisters to Wives and 'Slaves': Redefining Matriliny and the Lives of Lakeside Tonga Women 1885-1955," Critique of Anthropology, Vol. 17, No. 2 (1997) 171-187.

"On Power and Powerlessness: Marriage and Political Metaphor in Colonial Western Tanzania" International Journal of African Historical Studies, Vol. 27, No. 2 (1994) 273-301.

"Gender Relations, Class Formation, and the Colonial State in Africa," in Jane Parpart and Sharon Stichter, eds., Women and the State in Africa (Boulder: Lynne Rienner, 1990) 23-46.

Courses Taught:
Hist 5 - World History Since 1750
Hist/ PS 80 - Introduction to Contemporary Africa
Anth 21 - Women, Gender, and Culture - Cross-Cultural Perspectives (team-taught with Claire Cesareo)
HUM 10A - Culture, Science & Society I: Power, Resistance, and Empire
HUM 10B - Culture, Science & Society II: Power, Resistance, and the Transformation of Empire
WS 10 - Introduction to Women's Studies
WS 31 - Gender and Popular Culture

Awards, Grants and Fellowships
Fulbright Hays Doctoral Dissertation Research Abroad Fellowship (1989)

MacArthur Fellowship in Peace, Conflict, and Security (1988)

Columbia University Presidential Fellowship (1985-87)

Columbia University Institute of African Studies Graduate Research Assistantship (1984-5)
This Professor sent a controversial e-mail 2 days after the terrorist attacks, where she claims that the attacks are basically a desperate response of the people US have being oppressing for so many years.
http://www.ocweekly.com/news/lovett-or-leave-it-6388500
For this reason, it is suspected that her tearing down of the 9/11 memorial have more to do with her personal ideas about the attacks and not with enforcing the "free speech zones" rules on campus.